We have been hard at work revamping the outdated "Pemberton's 5 Worst Weeds" posters, and are proud to present our new and improved series featuring special guest Sheriff Knotweed!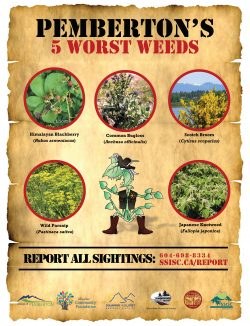 With the help of our new partners, (Lil'wat Nation, Village of Pemberton, Whistler Community Foundation, Squamish-Lillooet Regional District, and Stewardship Pemberton Society) we have identified five new priority invasive weeds that pose threats to the integrity of the Pemberton environment, and the health and economy of the Pemberton community.
Each poster, styled as an old fashioned western "Wanted" sign, features one of the five invasive outlaws and provides information on what it's wanted for, its habitat, identification tips, how to remove it, and how to prevent its further spread.
Help Sheriff Knotweed fight these abominable and frightful invasive plant outlaws by learning the threats they pose, and what you can do to help.