The European Green Crab is one of the world's 10 most unwanted species.

This aggressive invasive crab competes for prey and has the potential to upset the overall balance of our local marine ecosystem. European Green Crabs feed on a variety of intertidal animals, including oysters, mussels, clams, small fish, and juvenile crabs. They've also been known to disrupt eelgrass beds (important habitat for young salmon) and can destroy shellfish habitat.
We're concerned that they may be spreading into Howe Sound.
Howe Sound (Átl'ka7tsem) and the Squamish River Estuary (Skwelwil'em) are home to an abundance of species, including native shore crabs, juvenile salmon, seabirds, shellfish, rare glass sponge reefs, endangered rockfish, and much more. A European Green Crab infestation could significantly threaten the unique marine wildlife in this area.
European Green Crabs have recently been found in Boundary Bay (just south of Vancouver) and on Salt Spring Island (near the entrance of Howe Sound). They have a long early life (larval stage) of 50 to 80 days, when they drift in the ocean current before settling to the bottom. The adult green crab is also very hardy and can survive out of the water for over 5 days, hiding in fishing gear and equipment or, at the bottom of crates, buckets and boats.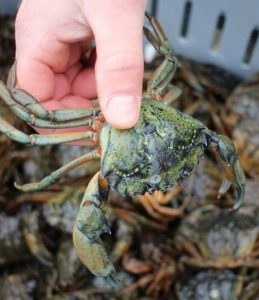 Volunteer with
Crab Team   

We need to know if this invasive crab has found its way to Howe Sound. This spring, in collaboration with Fisheries and Oceans Canada (DFO), we're launching a European Green Crab monitoring program – Crab Team.
*Applications for Crab Team volunteers are now closed*
We're recruiting local volunteers to help us survey for European Green Crab in Howe Sound, which will involve setting multiple crab traps at pre-determined sites, and then returning 24 hours later to collect & record data.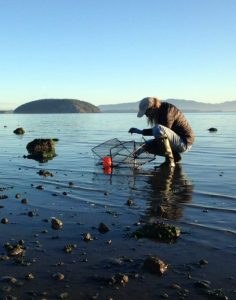 Volunteers should be comfortable carrying a small amount of gear over uneven terrain, occasionally working in imperfect weather conditions, walking in the mud, and handling all sorts of cool estuary critters. All materials, training, and assistance at the sites will be provided by our team – no previous experience in ecological monitoring or marine biology required.
This is a fantastic opportunity to gain experience in the field, have fun outdoors in the mud, and help to protect Howe Sound's biodiversity.
We will assemble 3 Crab Teams, which will each conduct sampling sets once a month. These sets will be on 2 consecutive dates, scheduled according to low tide times. Once you fill out the form below indicating you're interested in volunteering, you will be sent a poll with all possible sampling dates – these include weekdays, weekends, mornings, and afternoons. We ask that volunteers commit to being available for one set a month from April-September.
Prior to sampling, we will also meet online for training and introductions (about 2.5h via Zoom) – date TBD, depending on volunteer availability.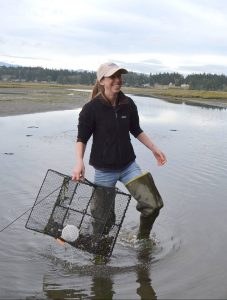 In accordance with our Covid-19 protocols, we ask that volunteers:
drive by themselves to / from sites
maintain +2m distance from other participants and SSISC staff
wear a mask
sanitize their hands before / after the sampling
do not attend if they have any symptoms
Have we 'pinched' your interest?
Applications for Crab Team volunteers are now closed. Check back on this page for updates on how our sampling goes! 
Learn more about European Green Crab and its impacts:
Questions?
Check out the FAQ below or reach out to us via email at crabteam@ssisc.ca
Where is the sampling being done and how do I get there?
Our sites will all be near Squamish (close to downtown or in the Estuary). You can arrive there by walking, driving, biking, or other transport. Due to our Covid-19 protocols, we do ask that there is no carpooling with people outside of your immediate household.
I am only available on the weekends. Can I still participate?
Yes! We have sampling set dates available on weekends.
I may not be available every month the summer (July and August, for example). Can I still participate?
We have some flexibility in the trap monitoring schedule, and you will know the trapping dates well ahead of time. However, if you are planning on being away for several weeks or months on end, this may not be the volunteer project for you.
What's the expected time commitment like?
• One 2.5-hour training & orientation session (done over Zoom, date TBD)
• 2-3 hours during the daytime on two consecutive days each month. For example, 2-3 hours on a Monday morning and then 2-3 hours on next day (Tuesday morning).
• The exact time of day may be different each month, based on the tides, but there is some flexibility in the schedule. We will send you a full schedule of potential dates where you can fill in your unique availability.
I don't have a background in biology. Can I still participate?
Yes! All you need is an interest in the environment and the willingness to learn. We will provide all the training and resources you will need!
Do I have to provide my own tools or supplies?
No! We suggest you dress for the weather and wear comfortable clothing you don't mind getting a bit wet or muddy, but otherwise we will provide you will all the tools and supplies you will need.
What happens if I catch a Green Crab? Can I eat it?
Should we catch any European Green Crabs, they will be humanely stored and transferred to a SSISC staff member, or DFO representative. Any native species caught in the traps will be returned to the water. Volunteers are not permitted to keep specimens of any kind from the traps.
More questions? Email us at crabteam@ssisc.ca