When the German botanist Philipp von Siebold sent a variety of plant specimens to the Royal Botanical Gardens in 1850, he had no idea what he was unleashing on the world.
I'm a plant that's invasive beyond belief,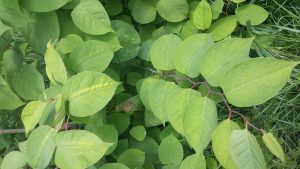 Able to grow through concrete, good grief!
I grow on stream banks and form dense stands,
I cause erosion to much of the land.
Now, 170 years later, Japanese Knotweed (Fallopia japonica) is leaving a trail of mayhem all across the planet. Originally from eastern Asia, Japanese Knotweed was introduced to British Columbia as an ornamental. Indeed, it presents a pleasing appearance, with its heart-shaped leaves and speckled bamboo-like stems that can grow to be 1 – 5 m tall in a single season. In late summer, showy, white panicles of flowers bloom. Occasionally, the plant can be confused with native species such as Salal, Red-Osier Dogwood, and Ocean Spray. However, you can distinguish Japanese Knotweed by the blunt knobs on the underside of its leaves and the zig-zag leaf pattern.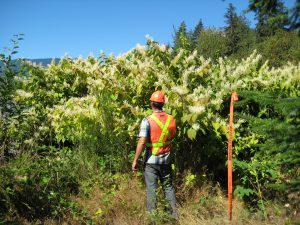 Despite its good looks, this plant has some serious killer instincts. With its ability to grow 1 m per week, Japanese Knotweed has been termed one of the world's most invasive species. Not only do its dense stands harm ecosystems by displacing native plants and increasing soil erosion, but its stems can grow through concrete, causing significant damage to buildings, bridges, and roads.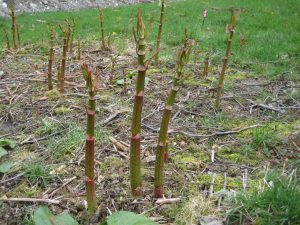 Since Japanese Knotweed can form a whole new plant from the smallest speck of root or stem, and its root system can extend up to 20 m laterally and 3 m deep, it can be a nightmare to control. Moreover, Japanese Knotweed's preference to inhabit riparian ecosystems impedes the use of herbicide treatment. That is why prevention is key! Be on the lookout for this species on roadsides, ditches, trails, disturbed habitats, streams, and rivers.
Help SSISC control Japanese Knotweed in the Sea to Sky by reporting it here.
---
I Spy in the Sea to Sky Contest
Guess the invasive species in our I Spy in the Sea to Sky series, posted on social media every Monday from June through August, to enter the giveaway. Once a month, one lucky commenter will win a packet of native flowers seed mix.
Contest Rules:
1 entry per person per post.
Anyone can play, but only residents of the Sea to Sky region are eligible to win.
Entry will close at 11:59 PM PST on the last day of each month (in this case July 31st).
Winners will be announced on the first business day of the next month (August 3rd) and contacted via their platform of entry.
This giveaway is in no way sponsored or endorsed by Instagram or Facebook.
Good luck!