Did this week's feature plant catch your attention?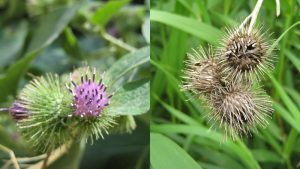 My large leaves and red stem may look like rhubarb,
But dig me out if I'm in your yard, 
For my burs stick to clothes and hair,
l am sure to be a gardening nightmare.
If you've ever had a run-in with Common Burdock (Arctium minus), it's likely to have (quite literally) grabbed you. The seed heads of this biennial are composed of hundreds of bracts tipped with sharp hooks, which cling tenaciously to animal fur, hair and many types of human clothing. As such, the Eurasian plant has unintentionally spread throughout North America.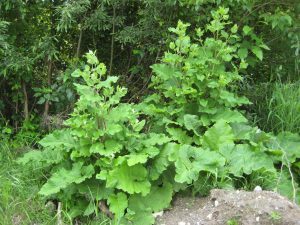 This sticky weed is easily identifiable by its purple blooms that rest atop circular burs with hooked, prickly bristles. Eventually, flowers mature and turn into brown burs – inspiring the invention of Velcro! Without flowers, the first-year rosette, with large, wavy, heart-shaped leaves and purple-based stems, may resemble rhubarb. That said, you can distinguish Common Burdock by the fuzzy underside of its leaves and hollow stems.
Common Burdock is found throughout the Sea to Sky, growing in moist, fertile, nitrogen-rich soils of disturbed areas such as roads, ditches and riparian areas. Luckily, in the realm of invasive species, it's relatively easy to remove: sever the taproot below where the stem meets the root using a shovel, and be sure to dispose of the flowering heads in the garbage rather than the compost! 
Following SSISC's Priority Species List, we look to strategically control this invasive plant. Think you've spotted Common Burdock? Report sightings here.
---
I Spy in the Sea to Sky Contest
Guess the invasive species in our I Spy in the Sea to Sky series, posted on social media every Monday from June through August, to enter the giveaway. Once a month, one lucky commenter will win a packet of native flowers seed mix.
Contest Rules:
1 entry per person per post.
Anyone can play, but only residents of the Sea to Sky region are eligible to win.
Entry will close at 11:59 PM PST on the last day of each month (in this case July 31st).
Winners will be announced on the first business day of the next month (August 3rd) and contacted via their platform of entry.
This giveaway is in no way sponsored or endorsed by Instagram or Facebook.
Good luck!