It is hard not to notice this plant, but there may be a thing or two that you didn't know…
Purple bells line my stem, reaching for the sky,
Along the roads, in fields, and parks I'm easy on the eye, 
But don't be fooled, I'm poisonous to you and your pets,
Best to stop my spread so I'm no longer a threat.
Common Foxglove (Digitalis purpurea) can be spotted all over the Sea to Sky, like in Smoke Bluffs Park in Squamish or along the Valley Trail in Whistler. If flowering, Common Foxglove is recognizable by its tall 'spike' of pink, white or purple bell-shaped flowers with spots and fine hairs on the inside. The leaves are soft to the touch, with many small hairs on their surfaces, and might be confused for Common Comfrey (Symphytum officinale). However, unlike Common Comfrey, you can distinguish Common Foxglove by its toothed leaves.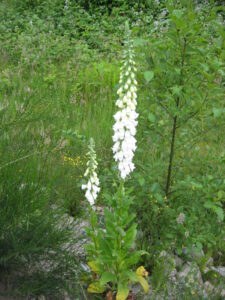 It's thought the 'glove' part of the name is simply due to the flowers looking like gloved fingers. However, less certain is the connection to foxes. One theory is that people believed foxes wore the flowers on their paws to silence their movements when hunting. Another is that the flower is often found growing close to the hearths where foxes raise their young.
Common Foxglove was introduced to North America from Europe as a medicinal plant. Indeed, the chemicals extracted from Common Foxglove are used to make digoxin, which treats congestive heart failure. But beware, all parts of the plant are highly toxic to humans and animals if ingested and can affect muscle tissue and circulation. 
Although Common Foxglove can be pulled easily by hand, it is found in such large numbers in the Sea to Sky Region that SSISC focuses its effort to strategically control it. That means that we control Common Foxglove at sites considered valuable to protect, like wildlife habitats, agricultural land, etc. To help reduce its spread, avoid purchasing wildflower mixes that contain Common Foxglove seeds and hand-pull any plants that have invaded your property (with protective gear such as gloves and long sleeves). Remember to bag all flower heads and dispose of them in the garbage — not the compost!
If you spot Common Foxglove encroaching on valuable land, please report it. 
---
I Spy in the Sea to Sky Contest
This is our final I Spy giveaway folks!
Guess the invasive species in our I Spy in the Sea to Sky series, posted on social media every Monday, until the end of August to enter the giveaway. This month, one lucky commenter will win a Camp Lifestyle + Coffee Co. trucker hat AND a packet of native flowers seed mix!
Contest Rules:
1 entry per person per post.
Anyone can play, but only residents of the Sea to Sky region are eligible to win.
Entry will close at 11:59 PM PST on the last day of each month (in this case August 31st).
Winners will be announced on the first business day of the next month (September 1st) and contacted via their platform of entry.
This giveaway is in no way sponsored or endorsed by Instagram or Facebook.
Good luck!