Odds are that if you live in the Sea to Sky region, you've seen this noxious weed growing in your neighbourhood.
My leaves are serrated, long and dark green,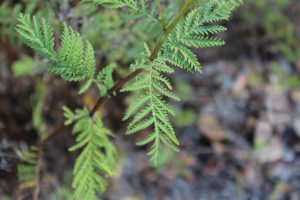 Topped with yellow bright buttons that are easily seen,
Like many invasives, I'm toxic to eat,
And considered noxious in parts of BC.
Common Tansy (Tanacetum vulgare) is a perennial herbaceous flowering plant that can be found throughout the Sea to Sky. It was first introduced from Europe into North America in the 1600s for medicinal uses. Ironically, it contains alkaloids that are toxic to humans and livestock if consumed in large quantities.
Luckily, Common Tansy is fairly easy to identify by its yellow button-shaped flowers that grow in groups at the end of branches. Indeed, each plant can have anywhere between 20 to 200 bright yellow flowers. The fern-like leaves are dark green and divided, with serrated leaflets. Notably, the leaves produce a potent smell when crushed.
You're likely to spot the plant thriving in sunny areas with well-drained soils, as well as on stream banks, in pastures, and other disturbed sites such as roadways.
Common Tansy is unpalatable to livestock and mildly poisonous— it even renders milk bitter when cows consume it! The presence of this weed reduces species diversity, wildlife habitat, and livestock forage.
Due to the plant's extensive root system and substantial populations, control of Common Tansy is challenging. SSISC strategically controls Common Tansy throughout the Sea to Sky. Nonetheless, we encourage you to take initiative in your backyard to prevent further spread. If Common Tansy is encroaching on valuable land, report the sighting here.
---
I Spy in the Sea to Sky Contest
This is our final I Spy giveaway folks!
Guess the invasive species in our I Spy in the Sea to Sky series, posted on social media every Monday, until the end of August to enter the giveaway. This month, one lucky commenter will win a Camp Lifestyle + Coffee Co. trucker hat AND a packet of native flowers seed mix!
Contest Rules:
1 entry per person per post.
Anyone can play, but only residents of the Sea to Sky region are eligible to win.
Entry will close at 11:59 PM PST on August 31st.
Winners will be announced on September 1st and contacted via their platform of entry.
This giveaway is in no way sponsored or endorsed by Instagram or Facebook.
Good luck!