This week's feature invasive plant truly deserves one of its common names, Devil's Paintbrush, both for its fiery colours and its devilish behaviour.
My orange flowers may seem pretty at first,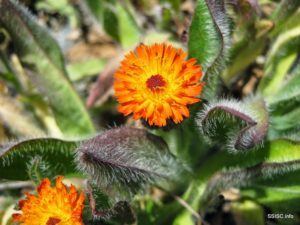 But my rapid spread is really a curse,
In clearings, meadows, roads, and pastures,
I decrease biodiversity, what a disaster!
The native European plant, most commonly referred to as Orange Hawkweed (Hieracium aurantiacum), was thought to improve a hawk's eyesight if ingested. While we are not sure if hawks eat this noxious weed, or if it improves eyesight, we do know that landowners should not count on livestock to graze it down. 
On top of being unpalatable to livestock, its aggressive growth displaces native and palatable vegetation and can form a near-complete monoculture. Orange Hawkweed also inhibits seed production in nearby native plants by interfering with their pollination process. 
Luckily, it is easy to identify by its clusters of bright orange flowers that look like little orange Dandelions. You can also spot Orange Hawkweed by the tight clusters of black, hairy buds on hairy stems. The leaves, which are entire, are also hairy and usually grow just around the base of the stem. All parts of the plant exude a milky sap when cut.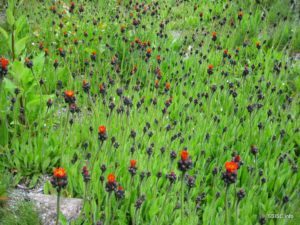 Unlike many native wildflowers, Orange Hawkweed spreads both by creeping stolons and seeds, which can disperse long distances on animals, boots, and tires. Its effective reproduction, tolerance of low nutrient soils and short growing season, combined with a lack of natural predators, aids in the invasion of our sensitive ecosystems such as subalpine meadows. You may also see infestations taking over roadsides, pastures, clearings, and other open, disturbed sites.
Unfortunately, controlling Orange Hawkweed can be extremely challenging. Physical removal rarely succeeds as the fragments of roots and stolons quickly regrow. Did I mention this plant is devilish? 
As always, prevention is key! To nip any growth in the bud (yes, pun intended), we encourage you to regularly monitor your property for infestations. And, while SSISC only strategically controls populations encroaching on valuable land in Squamish and Pemberton, our goal is to contain infestations in Whistler. So, next time you spot Orange Hawkweed in Whistler, report it here! 
---
I Spy in the Sea to Sky Contest
This is our final I Spy giveaway, folks!
Guess the invasive species in our I Spy in the Sea to Sky series, posted on social media every Monday, until the end of August to enter the giveaway. This month, one lucky commenter will win a Camp Lifestyle + Coffee Co. trucker hat AND a packet of native flowers seed mix!
Contest Rules:
1 entry per person per post.
Anyone can play, but only residents of the Sea to Sky region are eligible to win.
Entry will close at 11:59 PM PST on the last day of each month (in this case August 31st).
Winners will be announced on the first business day of the next month (September 1st) and contacted via their platform of entry.
This giveaway is in no way sponsored or endorsed by Instagram or Facebook.
Good luck!