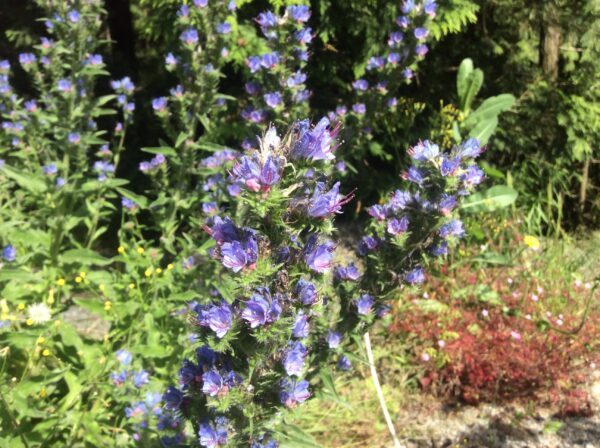 Synonyms
Viper's Bugloss, Blue Devil
ID Characteristics
General: Blueweed is a biennial taprooted plant that produces a rosette during its first year of growth and bright blue flowers during its second year of growth.
Flowers: Numerous bright blue flowers that are five-lobed, 10-20 mm long, slightly funnel-shaped, and arranged on the upper side of arching stems. The flower bulbs are reddish purple before flowering occurs.
Stems: Are 30 – 80 cm tall, erect, and are covered with a combination of both short and long, stiff hairs that are painful to the touch. Long hairs have dark, swollen bases that produce noticeable flecks. There may be up to several stems per plant.
Leaves: Lance-shaped, covered with stiff hairs, and arranged in a rosette during the first year of growth. The basal leaves are stalked and tend to be larger, while leaves near the top of the plant are smaller in size and are stalkless.
Seeds: Seeds resemble a viper head in shape, which is where the common name Viper's Bugloss is derived from. They are greyish-brown, about 3 mm long, and clustered together in groups of four, with a rough texture and wrinkly appearance.
Roots: Blueweed has long, stout, black taproots with smaller lateral roots.
Similar Species
Native: 
Arctic Lupine (Lupinus arcticus) can be found throughout the Sea to Sky. Unlike Blueweed, it has whorled, pea-like flowers and lacks noticeable black specks on the stem of the plant.
Non-Native:
Common Bugloss (Anchusa officinalis) is another invasive species that can be found in Squamish and Pemberton. Unlike Blueweed, the flowers of this species have distinctive white throats.
Report
Habitat and Origin
The native range of Blueweed is in Europe, however the reason for its introduction to North America remains unknown. This species can be spotted invading roadsides, drainage ditches, right-of-ways, fencelines, gravel pits, pastures, rangelands, and other disturbed areas. Blueweed prefers warm, southern aspects due to its intolerance of shade. While this species can grow in a variety of soil types and pH, it does require well-drained soils, even if those soils are nutritionally poor.
Current Distribution
Propagation & Vectors of Spread
Blueweed propagates by seed and is considered to be a prolific seed producer. Each plant can produce up to 2800 seeds per season, and each seed can remain viable in the soil for several years. The seeds can be spread to new regions by wind, wildlife, people, and equipment, especially since the rough exterior of Blueweed seeds allows them to cling to fur, feathers, clothing, and hair. Dead flower stalks that break off can also be dispersed by the wind and transported to new locations. In addition, the purchase and planting of Blueweed as a garden ornamental contributes to its spread.
Ecological, Economic, & Health Impacts
Ecological: 
Blueweed is unpalatable to grazing animals.
Economic:
Replaces forage crops by invading pastures and rangelands.
Health:
The stiff hairs that cover the stems of Blueweed are quite prickly and can cause skin irritation.
The ingestion of Blueweed by animals has a potential toxic threat due to presence of pyrrolizidine alkaloids.
What Can I Do?
Blueweed is currently found in Pemberton, and sporadically throughout Squamish, but has not yet been found in Whistler, so PREVENTION is key:
Learn to identify Blueweed: use the images presented in this profile page to learn how to identify Blueweed
What to do if you spot it: You can report any Blueweed sighting by clicking here.
DO:
Regularly monitor properties for weed infestations.
Minimize soil disturbances and promptly revegetate disturbed areas to prevent the growth of Blueweed.
Check wildflower mixes to ensure that they do not contain Blueweed.
Ensure all flowering heads or buds are bagged or covered to prevent spread during transport to designated disposal sites.
DO NOT:
Unload, park or store equipment or vehicles in infested areas; remove plant material from any equipment, vehicles or clothing used in such areas and wash equipment and vehicles at designated cleaning sites before leaving infested areas.
Plant Blueweed in a garden, no matter how well-contained its enclosure may seem.
Compost any flowering heads or buds. Instead, dispose of Blueweed in the general/household waste stream at the landfill as the seeds will be able to persist the composting process.
Move soil, gravel, or fill that has been contaminated with Blueweed.
Control
Mechanical 
Small infestations of Blueweed may be effectively controlled by hand-pulling.
Ensure that the taproot is severed below the root collar (where the stem reaches the soil) and that any flowering heads or buds are bagged to prevent unwanted spread.
Wear gloves and long-sleeved clothing to prevent irritation from the stiff, prickly hairs.
Cutting or mowing larger infestations before the plants go to seed can help decrease future seed production and deplete root reserves. However, multiple treatments will likely be required as cut stems encourage resprouting.
Chemical
The herbicide 2,4-D has proven effective when applied in spring or early autumn. If the area is not vegetated by other desirable plant species, glyphosate is another effective herbicide for control of Blueweed. All herbicide applications should be monitored over successive years as follow-up treatments may be required, and to evaluate the efficacy of the chemical control method.
We recommend that any herbicide application is carried out by a person holding a valid BC Pesticide Applicator Certificate. Before selecting and applying herbicides, you must review and follow herbicide labels and application rates; municipal, regional, provincial and federal laws and regulations; species-specific treatment recommendations, and site-specific goals and objectives.